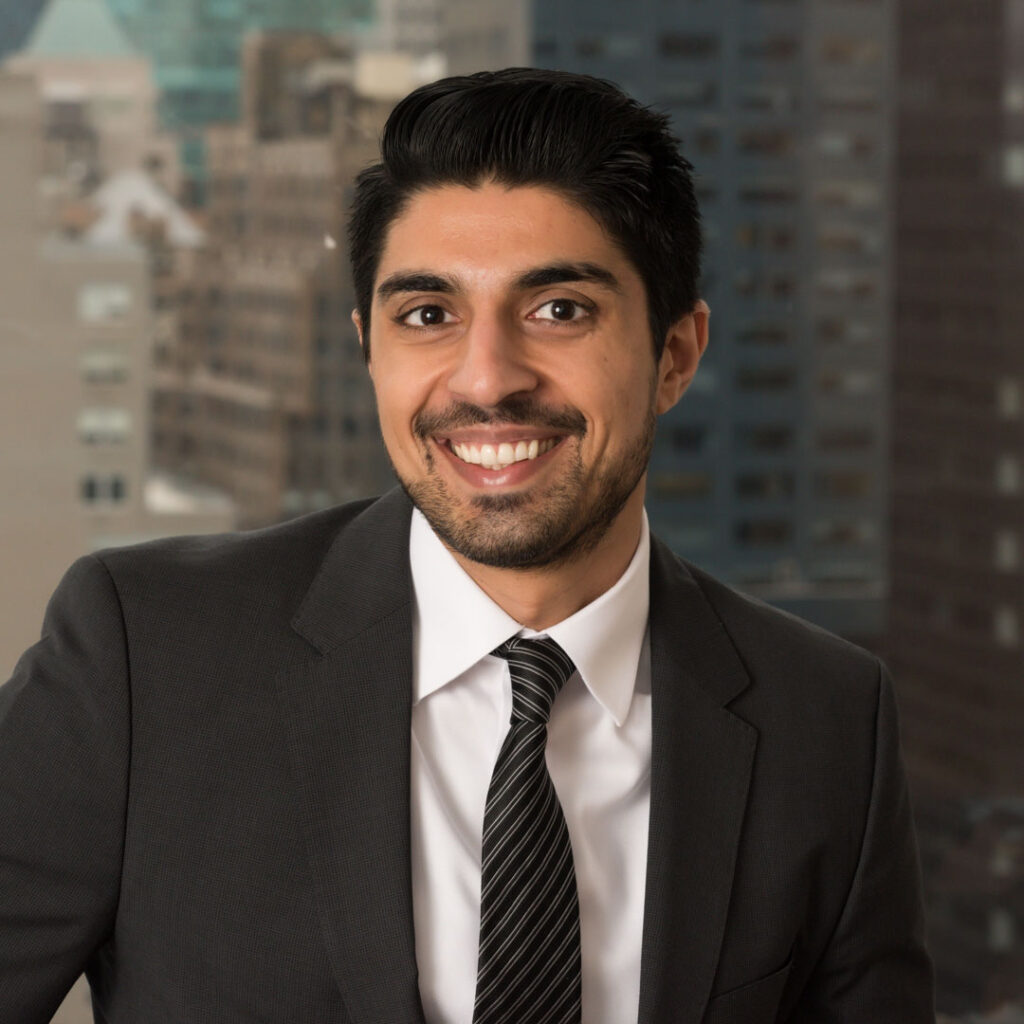 Amit Sondhi is a lawyer and entrepreneur who maintains an "Of Counsel" affiliation with Mintz & Gold while pursuing his executive MBA at The Wharton School of the University of Pennsylvania. Amit focuses his practice primarily on litigation, corporate, and regulatory matters affecting small to medium-sized businesses and individual executives.
Amit's practice stretches across the traditional lines of "corporate" versus "litigation." For example, Amit counsels clients on corporate structure, governance, and regulatory guidelines, while also representing clients in civil litigation, arbitration, government investigations, and regulatory enforcement proceedings. Amit serves as outside General Counsel to several proprietary trading firms spread across the Chicago and New York markets.
Amit believes in an impact-focused philosophy in which he measures his success by the positive impact he has in a client's matter, whether it be structuring a client's business or representing a client in a high-stakes litigation or regulatory investigation. Amit has often advocated for reforming the private practice of law by structuring flat-fee billing arrangements – as opposed to hourly billing – to better align counsel's interests with the client's interests.
From 2016 through 2019, Super Lawyers has recognized Amit as a rising star in the New York Metro area. Prior to joining Mintz & Gold LLP, Amit was a partner at the law firm of Sorkin & Sondhi LLC and an associate at Lowenstein Sandler LLP for seven years.
Representative Engagements
Corporate
Spearheaded the re-structuring of two proprietary-trading firms such that both firms
could garner member rates on the CME with only one set of memberships; created subsidiary entities and drafted relevant operating agreements; coordinated securing regulatory approvals from CBOE, CME, and FINRA
Represented a proprietary trading firm on various regulatory matters associated with establishing a digital asset currency trading business that relied upon the Act 20 and Act 22 provisions in Puerto Rico; Drafted operating agreement securing partnership with hedge fund
Represented a proprietary trading firm on its first fund formation with traditional GP, LP and Management Co. model
Represented a start-up proprietary trading firm on establishing corporate structure and drafting operating agreements.
Civil Litigation & Arbitration
Currently representing the former CEO of a public company in connection with a class-action litigation pending in the SDNY;
Represented selling shareholders in connection with a multi-million-dollar M&A litigation in Delaware Chancery Court over earn-out provisions; Secured a $20 million dollar plus judgment that was affirmed on appeal by the Delaware Supreme Court;
Represented selling shareholders in connection with a multi-million dollar M&A litigation concerning escrow payments; worked with Delaware counsel to secure a $10 million dollar plus judgment at the Chancery Court level
White-Collar / Regulatory
Successfully represented two Swiss hedge funds in an insider trading action brought by the SEC in SDNY; Obtained a dismissal without prejudice
Represented a portfolio manager at a prominent hedge fund in connection with parallel insider trading investigations by the SEC and U.S. Attorneys' Office (SDNY)
Represented a defendant at sentencing in connection with a money laundering prosecution brought by the U.S. Attorneys' Office (EDNY); Successfully advocated for a probationary sentence
Negotiated a favorable resolution of an administrative proceeding filed by the SEC against the former CEO of a retail broker-dealer
Publications
Practice Areas
Financial Institution Regulatory Practice
White Collar Defense
Civil Litigation
Education
Boston University School of Law (J.D., 2009)
Villanova University (B.A., 2006, cum laude)
---
Bar Admissions
---