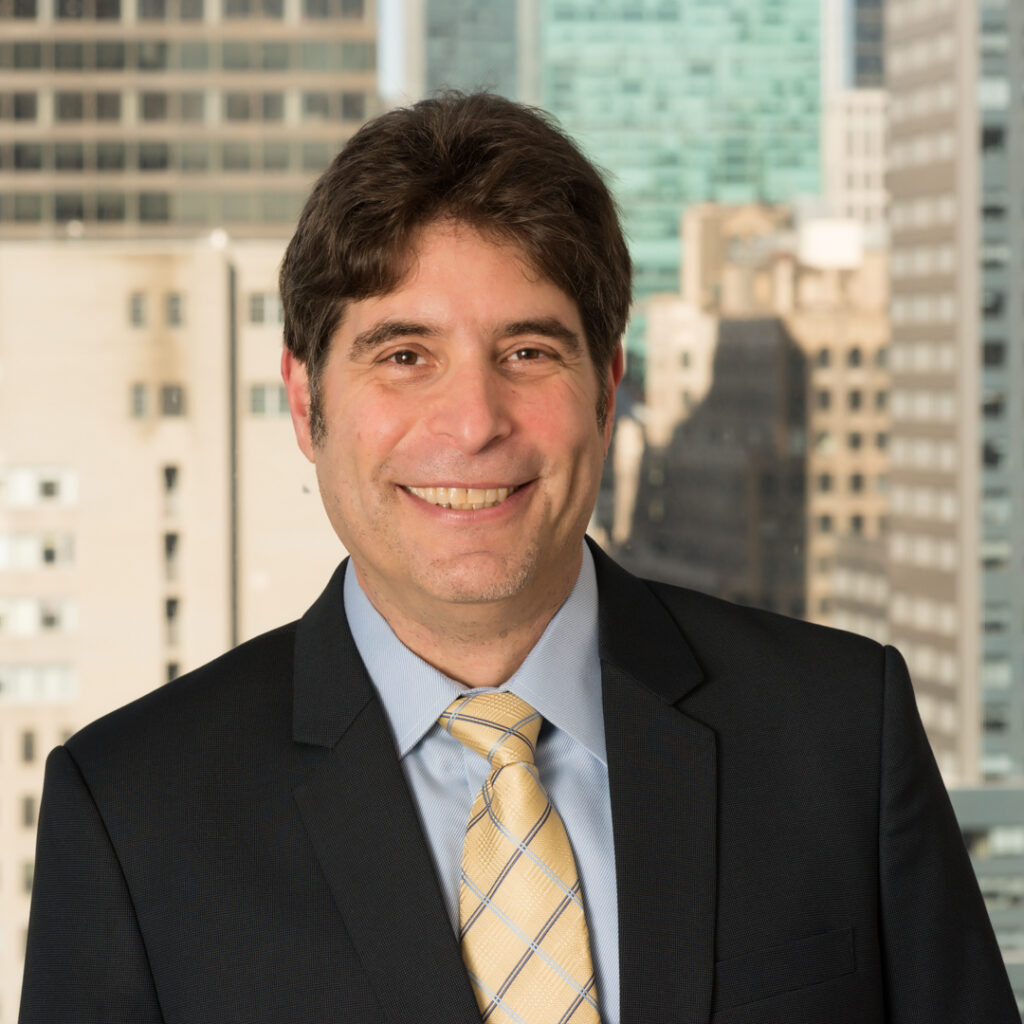 Jeffrey D. Pollack is the head of Mintz & Gold's Labor and Employment Department, and concentrates his practice in all areas of labor and employment law on behalf of employers. Mr. Pollack was named a New York Super Lawyer from 2013-2019. Mr. Pollack is recognized as an authority on the Fair Labor Standards Act. He represents companies in lawsuits involving allegations of wage and hour violations, union representational campaigns, collective bargaining negotiations, and regularly practices before the Federal and State Courts, the NLRB, EEOC and the New York State Division of Human Rights. Mr. Pollack's practice includes counseling clients on the day-to-day concerns of employers in today's litigious climate.
After serving as co-counsel in an 8-day NLRB trial in July 2013 where Jeff served as lead counsel, former NLRB member Peter Kirsanow said this about Jeff: "I've had the opportunity to see lots of labor lawyers in action. I'd always thought . . . were among the best oral advocates among management side labor lawyers. You're among that group."
Jeff also acts as an employment practices trainer. For many years, Jeff referred his clients to an outside trainer, but a few years ago one the firm's bigger clients asked him to personally train its employees and since them he has trained thousands of employees on workplace sensitivity, with many trainees commenting that it was one of the most enjoyable and informative training sessions they have taken.
Mr. Pollack also serves as an arbitrator and mediator in all types of labor and employment disputes, including as a Special Master for the Appellate Division Second Department's Mandatory Civil Appeals Mediation Program.
Jeff also speaks regularly on employment matters, including Sexual Harassment Summit:Perspectives and New Best Practices in the Wake of #MeToo, NYC Bar Association, Nov. 30, 2018; 3rd Annual Employment Law Institute, NYC Bar Association, March 10, 2017; Uber and the Gig Economy:Redefining the Employment Relationship, NYC Bar Association, Nov. 21, 2016.
He received a B.A. degree from Emory University in 1987, and a J.D. degree, cum laude, from Boston University in 1990, where he served as an editor of the Law Review. He is admitted to practice in New York and New Jersey (and retired from the bar in Florida and Massachusetts) and served as an adjunct professor of Legal Writing at Brooklyn Law School. He is the author of numerous published articles on labor law.
Articles by Jeffrey Pollack
Vaccine mandates and Religious Accommodations
New York Law Journal, April 8, 2022
Hostile Work Environment – With a Capital 'H'
New York Law Journal, February 25, 2019
'Because': The Most Important Word in Discrimination Claims
New York Law Journal, February 6, 2018
Employment Law: an Overview of Retaliation Claims
New York Law Journal, February 28, 2017
Labor and Employment Law: Independent Contractor Test?
New York Law Journal, April 13, 2016
Family Medical Leave Act: When Is Employer on Notice?
New York Law Journal, May 7, 2015
Second Circuit to Decide Challenges Over Unpaid Interns
New York Law Journal, March 19, 2014
Wage and Hour Update: Employee Break Time
New York Law Journal, April 8, 2013
Overtime: The Fluctuating Workweek
New York Law Journal, April 4, 2012
Overtime: Retail or Service Establishment Exemption
New York Law Journal, July 13, 2010
Wage Deductions: Labor Law §193, 'Pachter v. Bernard Hodes'
New York Law Journal, December 11, 2008
Must Worker Avow Receipt of Discipline Form, Manual?
New York Law Journal, November 30, 2007
Overtime: The Motor Carrier Exemption
New York Law Journal, August 9, 2006
Labor Law: Expiration of a Collective Bargaining Agreement
New York Law Journal, December 3, 2004
Understanding the FLSA's Administrative Exemption
New York Law Journal, March 4, 2004
FLSA: The Tip Credit
CPA Journal, June 2003
Impasse: The 'Obscenity' of Labor Law
New York Law Journal, March 5, 2003
Requirements Employers Must Satisfy When Paying Less Than Minimum Wage
Employment Law Strategist, September 2002
Reviewing FLSA Rules on Volunteers and Interns
New York Law Journal, March 11, 2002
Exemption Under the Fair Labor Standards Act: The Cost of Misclassifying Employees
Cornell Hotel and Restaurant Administration Quarterly, October- November 2001
Supreme Court Rejects NLRB's Supervisor Test
New York Law Journal, October 3, 2001
NLRB Overrules 50 Years of Precedent
New York Law Journal, June 11, 2001
Limiting Public Policy Reviews of Arbitration
New York Law Journal, February 26, 2001
Overtime: Determining an Employee's Regular Rate
New York Law Journal, November 21, 2000
Reviewing Overtime White-Collar Exemptions
New York Law Journal, April 19, 2000
Defining 'Hours Worked' Under FLtheSA
New York Law Journal, April 5, 2000
Two Methods for Reducing Overtime Costs
Wage Hour Alert