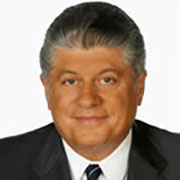 Judge Andrew P. Napolitano joined Mintz & Gold, L.L.P. in June 2009 after 25 years of practicing law in the complex commercial litigation, white collar criminal defense, and appellate advocacy fields, and after eight years on the Superior Court bench in New Jersey.
Judge Napolitano is the youngest life-tenured Superior Court judge in the history of the State of New Jersey. While on the bench from 1987 to 1995, Judge Napolitano tried more than 150 jury trials, and sat in all parts of the Superior Court – -Criminal, Civil, Equity, and Family. He has handled thousands of sentencings, motions, hearings, and divorces. For eleven years, he served as an adjunct professor of constitutional law at Seton Hall Law School, where he provided instruction in constitutional law and jurisprudence. Judge Napolitano returned to private law practice in 1995 and began television broadcasting in the same year.
Judge Napolitano joined Fox News Channel (FNC) in January 1998, and currently serves as the Senior Judicial Analyst. He provides on air legal analysis every weekday throughout the day on FNC and on its sister network, Fox Business Network (FBN). He hosts "FreedowWatch" on FBN everyday at 8 pm, eastern time. He is also the regular fill-in host for "The Glenn Beck Program" on FNC weekdays at 5 pm.
Judge Napolitano has published five books on the U.S. Constitution. They are: Constitutional Chaos: What Happens When The Government Breaks Its Own Laws; The New York Times bestseller, The Constitution Exile: How the Federal Government Has Seized Power by Rewriting the Supreme Law of the Land; A Nation of Sheep; Dred Scott's Revenge: A Legal History of Race and Freedom In America;and The New York Times bestseller Lies the Government Told You: Myth, Power, and Deception In American History.
His writings have also been published in The New York Times, The Wall Street Journal, The Los Angeles Times, The St. Louis Post-Dispatch, The New York Sun, The Baltimore Sun, The (New London) Day, The Seton Hall Law Review, The New Jersey Law Journal, and The Newark Star-Ledger. He lectures nationally on the Constitution and human freedom.
Judge Napolitano received his undergraduate degree from Princeton University in 1972, and his Juris Doctor degree from University of Notre Dame in 1975.