Hello,
As 2020 (finally) gets out of our way and makes room for 2021, we have been reading through a number of articles and studies prognosticating about what is in store for commercial leasing in the days and months ahead.
In today's issue, we review eight trends to watch out for in 2021.
Sincerely,

Swimming Your Lease Into 2021
Thank goodness 2020 is in our rear view mirror. Good riddance!
So much has changed this past year and, for this technology-challenged Boomer, not for the better.
On a scale of Luddite to Zuckerberg, I am just north of caveman so one more Zoom call and I may need to be institutionalized.
Recently, the Massachusetts Institute of Technology instituted their own COVID related technology innovation.
Since 1948 MIT has required its student geeks to pass a 100 yard swim test in order to graduate.
Many other schools with similar requirements have dropped the requirement during COVID but MIT instead decided to go virtual with an online "conceptual swim class".
Why didn't I think of that?!
Pre-COVID, four or five times a week I woke up at 5:15 am to swim at my local Y and now it is a struggle to find a safe place to swim.
Instead, I could just swim virtually. No need to even get wet!
Unfortunately, not a student favorite since the MIT swim test takes only ten minutes while the class is a painful four hours long (goggles and bathing suit optional).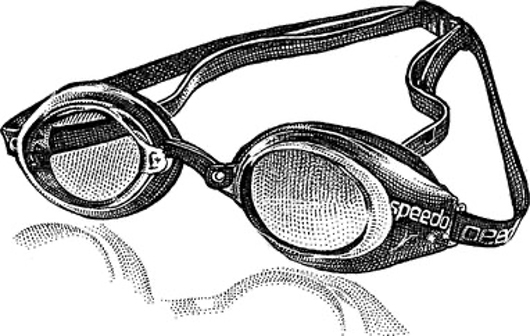 Perhaps we can institute conceptual leasing.
We visualize doing your lease but no actual work is required.
Yes, I know, you are thinking no actual work ever happened previously when we negotiated your lease.
Besides, I expect this innovation could lead to conceptual legal fee payment, which we all know would be a cardinal sin.
As we bid a not so fond farewell to 2020, it is still early enough in 2021 to wish you an actual (not conceptual) Happy New Year and take some time to think about where commercial leasing might be headed.
Many office workers stuck at home are tired of balancing work, children's schooling, walking the dog and all the other distractions of home and would love to go back to an office.
Many other office workers relish the ability to work in their pajamas without a long commute and never want to go back to an office.
What are office tenants to do?
I for one intend to commute in my (NY Mets) pajamas but that could get a little embarrassing and is not a universal solution.
Similar dilemmas face retail and warehouse tenants trying to navigate their new "normal."
Many recent articles and studies have been throwing out all kinds of ideas and predictions regarding our post-COVID world.
How might these affect commercial leasing?
We have pulled out some trends for you to consider.
Cue scary music and take a dive into our list of eight 2021 commercial leasing trends:
Office flexibility. Remote work in some form is here to stay. Even workers that say they want to go back to the office may really just want some face-to-face conversation out of the house and concerns about commuting, endless meetings and missed family time will remain. Most office tenants will end up somewhere on a spectrum between companies with no headquarters and scattered employees to those that will still demand in person attendance. Some will use "hoteling", where different employees stagger their time in the office, and some will use "hub and spoke" models, with smaller headquarters in expensive downtown areas and less expensive spokes in outer areas. As recently posited in the WSJ, even if your office survives, your desk may not, as commercial spaces become primarily used for meetings and team projects. What is clear is that the need for flexibility will be the basis of any new office solutions.
Subleasing Explosion. As companies try to handle increased demand for remote work and generate some real estate cost savings, expect office subleasing to increase exponentially. Subleasing is the quickest and most cost effective method for a company to pare down its space. It also allows firms looking to expand in difficult times the opportunity to obtain space with a shorter term obligation and generally lower rents. Space available for subleasing in most metropolitan areas has greatly increased as firms reassess their needs.
Retail retrenchment. Retail leasing has taken a huge hit and the pandemic has accelerated the shift to e-commerce. A healthy retail sector will require many changes, perhaps use of percentage rent for street retail (i.e., rent paid based on a percentage of the tenant's gross revenue as seen in shopping centers) or remodeling of less productive malls into entertainment centers. Restaurants in particular have been battered and we may see more "pop-up" or "ghost" restaurants that open solely for catering or on a trial basis. Interestingly, daytime demand may increase for local neighborhood stores and eateries catering to more stay-at-home workers.
Sizzling warehousing. Warehouse leasing is one of the COVID winners, especially with e-commerce companies needing last-mile distribution centers near large population centers for "just in time" inventory. This trend will continue and we will likely see other properties converted to warehouse use.
Landlord/Tenant disputes. A big question is how landlords and tenants will handle tenants' inability to pay rent and potential evictions. Landlords may get more aggressive with enforcement. Right now, states such as New York have put a moratorium on evictions which has bought the parties some time to work out compromises such as reduced rent, abatements or greater time for repayment. Landlords also have to pay their lenders and lenders will have to work with their borrowers to determine which parties can survive a workout and which properties will require foreclosure.
Lease terms. Few businesses will commit to a new lease until they understand how remote working will change their office needs, so competition for tenants will intensify. As subleasing increases, landlords will find themselves competing with their own tenants and will need to respond by offering shorter term leases and better economic terms. To date asking office rents have not come down too much but landlords are offering tenants more concessions thus reducing net rents. In the retail world, some landlords (and their lenders) have gotten more realistic and are trying to keep their buildings occupied by offering concessions to existing tenants in tough financial positions.
Co-Working will strengthen. Although co-working companies were hit hard by the COVID recession, this element of the market is not going away. The co-working companies that can survive the short term may do quite well in the long term. This gets back to co-working space providing another avenue to address the need for shorter term flexible space. We have seen new co-working locations pop up in suburban areas as stay-at-home workers look for a quiet working space outside their homes.
Technology. COVID has only accelerated the growth of technology in terms of how space is marketed to and reviewed by tenants, and how space is used. Added transparency and information may lead to more fairness in pricing and more efficient markets. Devices allowing tenants to use virtual reality and three-dimensional software to walk through space (built and unbuilt) has been utilized to circumvent in-person restrictions. Climate change has made sustainability a necessity and "smart" buildings can address air quality and safety, in addition to light, energy, water and heat levels and data connectivity.
One recent article about future office trends envisions the fully virtual office. This brave new world is described as a combination of a videogame and Zoom and the author posits that soon you may be told by a colleague "the boss would like to see you in her castle." Almost enough to make me miss my Metro North commute. Pay attention to the trends above and at least you will not drown in the changes headed your way in 2021.